Pinnacle Information Services:
The On-Request information platform for mobile subscribers
Pinnacle enables Mobile Network Operators and information content providers to provide SMS based information services to their subscribers. It is a flexible, multi-modular software package that can be tailored to meet the needs of the most demanding and competitive mobile phone markets.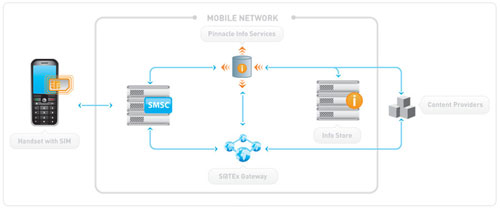 The Pinnacle platform is used for defining and managing Short Message Services (SMS), and for hosting content. Pinnacle interfaces with the Short Message Service Centre (SMSC) of the Network Operator or with Logos Solvo's S@T Express Gateway installed at the network to facilitate the provision of SMS based information services.
Features
The key features of Logos Solvo's Pinnacle Information Services product are:
Several Service Modules




SMS Information: Subscribers can retrieve information from services like news, sports, ring tones, logos, religious texts, jokes, quotes, fortune cookies, etc.

SMS Broadcast: Broadcasting via SMS to an unlimited number of subscribers.
Polling: SMS based poll services.

Chatting: Subscribers can communicate via group SMS in chat rooms.

Competitions: Enables companies to run brand building competitions or promotions.

Request line: Radio stations or take-away restaurants can process song requests or orders using a PC, and eply to subscribers via SMS.

Mobile Intranet: Companies with highly distributed workforces can provide information to their employees through their mobile phones.

Alerts: Subscribers can receive reminders at specific dates and times.

Auctions: Subscribers can list items for auction, and other subscribers can bid for these items using SMS.

Phone Number Lists: Allows subscribers to subscribe to a phone number list that other subscribers can access.

iSMS: Subscribers can access their email accounts via SMS on their mobile phones.


Security.

Pinnacle allows an administrator to create a keyword (service) or sub-keyword (sub-service) and assign ownership rights to a user. Update of information on the keyword (service) is either via phone commands or via a password protected web page. This allows update of information to be done remotely by third parties in a secure way.


Plug-in architecture.

New modules can be seamlessly plugged in without restarting the system.


Flexibility.

Pinnacle is very flexible in its use of keywords and content. For instance, an operator can upload content of a keyword and specify the date and time that the content becomes available.


Multi-language support.

Pinnacle supports multiple languages, and content can be added in a new language at any time. Subscribers can choose which language to access the content in.

Advantages to the Mobile Network Operators:
The advantages to MNOs of deploying Pinnacle are:
Pinnacle is a tool for revenue generation as it provides easy to access information on demand for mobile subscribers.

The product has many service modules, and can be extended with further modules at any time.

Pinnalce enables rapid deployment of new information services by a Mobile Network Operator.

The solution can be upgraded to fuller functionality as the Operator's requirements dictate.


Pinnacle as an Application Server for the S@T Express Gateway
Pinnacle can host S@T applications to access the data in its database, or from external content providers. S@T applications are accessible through Logos Solvo's S@T Express Gateway by subscribers with S@T enabled SIM cards. Pinnacle therefore provides a migration path to the Operator from SMS based services to S@T based services, while still providing access to the same information. Subscribers with SIM cards that are not S@T enabled will always still have access to the same content via SMS.